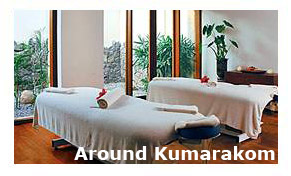 Kumarakom in Kerala is a group of islands situated on the beautiful Vembanad Lake. Kumarakom in Kerala has a number of hotels which offer the best of services and to the tourists. Well furnished and well equipped these hotels offer you a comfortable stay during your trip to Kumarakom.
There are different categories of hotels around Kumarakom and they are surely a class apart in comfort and luxury. Their services make your tour to Kumarakom and the nearby locations a unique experience. So far away from your fast paced city life spend a few days in the hotels around Kumarakom and enjoy serenity and peace at its best here.
Kumarakom in Kerala is a cluster of islands on the Vembanad Lake that is considered to be the heaven of bird watchers. Consisting of emerald green backwaters and blue lagoons this is the home of a rich variety of avian species. Kumarakom has a beautiful bird sanctuary. Located on the Vembanad Lake, Kumarakom is visited by a number of tourists for its green surroundings that is the home of the migrating avian population.
Location:
Nearest Airport: Cochin Airport: 70km

Nearest Railway Station: Kottayam is 14 kms away

India Hotel and Resort can help you book your room at the Hotels around Kumarakom in Kerala. Find all you want to know about Hotels around Kumarakom Kerala India and our customized hotel packages.

India Hotel and Resort.com offers online information and booking for stay at Hotels around Kumarakom Kerala India.