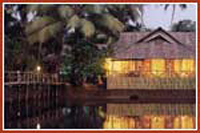 Basic Data
Country
India
State
Kerala
City
Thrissur
District
Thrissur
Location
Post Nattika Beach
Rooms
10
Kadapuram Beach Resort may be the ideal location for you to spend your vacation amidst the sprawling golden sand beach of Nattika. About two hundred meters from the cottages, the beach offers a wide view of the sea. You can walk along the entire length of the beach enjoying the breezy mornings, the warm afternoons with the pleasant view of the golden orb turning orange and the cool evenings, watching the foamy tides touch your feet. You can spend a lazy afternoon under the beach umbrellas and by late afternoon snack from the snack bar provided. In Kadapuram Beach you can go for deep sea fishing, play beach volleyball or badminton.
The cottages of the Kadapuram Beach Resort are made of local material bestowing to them traditional look with a cooling effect. Eco friendly, these cottages are 5 in number with two double rooms in each spread over 4 acres of sand facing the sea. The rooms have double bed arrangement with attached baths and showers. The bedroom walls are done in traditional mats made of ramacham roots. The roof is paneled with aromatic herbs. Stroll in the corridor, relax on the easy chairs or lie in the bedroom and watch the sun go down, vacationing in Kadapuram Beach Resort can be a wonderful experience.
The traditional Kerala cuisine in the Lake view restaurant could be what you have been looking forward to for quite sometime. Delicious Kerala dishes are dished out by the chef. You will enjoy the vegetarian and non vegetarian dishes served in the traditional Kerala style. You can also avail the buffet. Snack and coffee are also offered through out the day in Kadapuram Beach Resort.
Kadapuram Beach Resort offers you excellent cultural evenings. Imagine the joy in watching dancers performing the traditional Kathakali, Theyyam, Kalaripayattu, Mappila Pattu, Mohiniyattom or other Folk dances with the rhythmic sound of the waves in the background. Aryurvedic treatment is also offered in the Kadapuram Beach Resort. You can heal your body and mind amidst the natural surroundings.
Kadapuram Beach Resort in Thrissur will offer you good lodging facilities with luxurious rooms at a comfortable rate. Log on to Indiahotelandresort to get information related to Thrissur hotels and resorts and online booking.