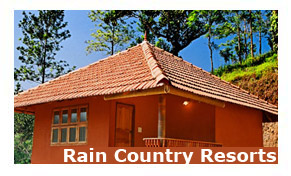 Rain Country Resorts is a beautiful place to stay in Wayanad. Rain Country Resorts lies 1300 meters above sea level at Lakkidi. Rain Country Resorts looks great being surrounded by the beautiful misty mountains of Wayanad. Rain Country Resorts stretches over 20 acres of land on the hilly terrain. This resort is a perfect place to spend a lovely holiday.
Accommodation:
There are 4 completely furnished cottages. The Single Room Cottages available are ideal cottage for honemooners. Two Room Cottages lead you to the misty morning sunshine overlooking the lake and the biggest Three Room Cottages have separate balcony and open bathrooms with bath tubs. All the cottages in Rain Country Resorts ensure that one has all the luxury required while residing close to nature.
Cuisine:
Rain Country Resorts offers delectable dishes from Indian and Continental Cuisine. It is said that even the one who detests food will fall for it once he eats in the restaurant of Rain Country Resorts. The dishes are not only tasty but are cooked with special care using lesser amount of oil and spice.
Other Facilities:
Amenities & Services at Hotel Rain Country Resorts are as follows:
Fax
Television
Travel desk
Coffee makers
Laundry service
currency exchange
Safe deposit lockers
Indiahotelandresort.com is well equipped to make your trip to Wayanad fun and exciting.