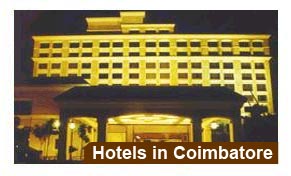 Get set to enjoy the time amidst the excitements of lifetime. A trip to Coimbatore places you amidst the wonders of nature along with the facilities that matches the best. Fondly known as the 'Manchester of South India', Coimbatore is remains all set to engulf you in its rich history and beautiful tourist spots. Being the third largest city of Tamil Nadu, Coimbatore is also an established industrial hub of the country. The city is famous for its numerous textile mills and the textile industry that has made it a superpower of South India. Moreover the IT giants too are looking forward to make the city as a potential IT hub. The developments in the recent past have made Coimbatore an attractive proposition for the travelers to tread. The city also offers exciting opportunities for tourism with its beautiful locales punctuate by the wonders of nature. The Hotels in Coimbatore provides you a perfect holiday amidst the Cosmopolitan culture. The city is never short of action with the excitements all around. The city is dotted with hundreds of attractions making every moment spent a memorable one. The Coimbatore Hotels complements all the facilities the city provides to its visitors.
The amusement parks and other places are in abundance in the city. The visitors can enjoy a fun ride at the .O. Chidambaram Park with a mini zoo and a children's amusement park or can get the fun with waters by walking the extra mile to the amusement park at the Black Thunder. The fast movers can put on their skating shoes to roll-on at the skating rink in front of the Nehru Stadium or can enrich their knowledge with a visit to the Forest College Museum and the City Museum.
Along with the facilities at the Hotels in Coimbatore the city also offers an enthralling experience of the 'club culture' with the numerous clubs. The Coimbatore Golf Club, The Cosmopolitan Club, The Coimbatore Club, the Coimbatore Flying Club are few to name where one gets the opportunity to enjoy a serene time with oneself.
Truly young at heart, Coimbatore is one of the hottest destinations for tourists and business travelers. The accommodation in the city is brilliant with the visitors getting a range to choose from. Right from the best of luxury to the affordable comfort, Coimbatore has it all! The city offers really good hotels to enjoy which are spread all across the city. The fast and upcoming cosmopolitan city of Southern India is regarded to be one of the best Hotels in Tamil Nadu with myriad facilities and a stay to remember.
The hotels in Coimbatore can be classified as:
Indiahotelandresort.com provides detailed, online information on the Hotels in Coimbatore as well as for other Hotels in Tamil Nadu and other parts of India and also offers online booking for a stay in Hotels in Coimbatore.