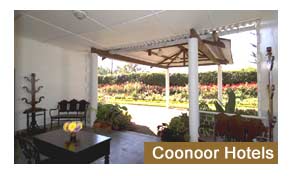 2000 ft above the sea level, Coonoor is only 17 kms away from Udhagamandalam. As Coonoor is hitherto not extremely commercialized, you will find a mesmerizing untouched charm at this place. Owing to its calm climate, Coonoor has rapidly enhanced its status as a well-liked hill resort. The main appeal of Coonoor lies in the Sim's Park, a well preserved but small botanical garden where you will find such classes of plants that can't be seen at the other hill stations. Some admired picnic spots as well as viewpoints around Coonoor comprise Lady Canning's Seat, St Catherine Falls, Lambs Rock, Dolphin's Nose, Droog, Law's Falls and Ralliah Dam. Many people, both tourists from abroad and domestic travelers, come to this picturesque place to get a breather from the monotonous schedule of their every day life and enjoy an invigorating stay. Different types of Hotels in Coonoor provide a wide range of alternatives to these motley group of tourists. Those having a large amount of disposable income prefer the luxurious abode of Heritage Hotels in Coonoor. The lavish accommodation at these hotels comes at a steep tariff. So, people on taut budgets generally prefer the budget Hotels of Coonoor that offer decent accommodation besides delectable food.
Several Hotels at Coonoor are very business friendly too as corporate guests are given quite a few amenities to conduct their business affairs sans delay. More than a few recreational amenities are also on the platter of these Coonoor Hotels that ascertain enjoyable time for the guests during their stay at these hotels.
Browse through the following web links for detailed information on Hotels in Coonoor:
So, rush to make a booking into one of the Hotels in Coonoor and enjoy a nice stay.
Indiahotelandresort.com offers online room booking at Hotels in Coonoor and other Hotels of India.