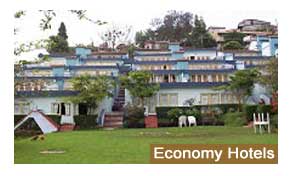 The picturesque hill station of Kodaikanal is beautifully nestled in the southern crest of the upper Palani Hills in Tamil Nadu. One of the finest tourist places in Tamil Nadu, Kodaikanal lies at about 213 meters above sea level, and is easily accessible from other cities within Tamil Nadu as well as from other parts of India. There are numerous hotels in Kodaikanal, which provide the right kind of accommodation to the hoard of tourists visiting this hill station. The Economy Hotels in Kodaikanal offer superb facilities for guest accommodation, dining and recreation, that too at affordable rates.
The Economy Hotels in Kodaikanal make your stay an unforgettable experience by introducing you to the scenic beauty and soothing environs of the city. The medium priced Economy Hotels and Resorts offer unlimited peace and tranquility. These hotels are the perfect retreats to enjoy the breathtaking natural beauty of Kodaikanal, enhanced by its thickly wooded slopes, lovely lakes, beautiful parks, cascading waterfalls, and steep rock outcrops.
Economy Hotels in Kodaikanal are equipped with all the latest facilities that promise to make your Kodaikanal vacation a smooth and comfortable affair. Well fitted with several modern amenities, these hotels are favored for providing high standards of service, teemed with warm hospitality. For all those in search of comfortable accommodation and decent services at reasonable prices, the economy hotels in Kodaikanal are the perfect options.
Abounding in spectacular natural beauty, Kodaikanal is a tourist's paradise - replete with numerous tourist attractions and also home to several educational institutions of international repute. The economy hotels in Kodaikanal act as decent base to explore the tourist destinations of Kodaikanal like the beautiful Coaker's Walk, Kurinji Andavar Temple - dedicated to Lord Murugan, and popular picnic spots like the Bear Shola Falls, Green Valley View and Pillar Rocks. Other must visit sites include Shenbaganur Museum - boasting of a vast collection of orchids, the Dolphin's Nose, Perumal Peak, Berijam Lake, etc.
Visit the following links to choose the right kind of accommodation for you from amongst the prominent Economy Hotels in Kodaikanal.
Indiahotelandresort.com offers online information and bookings for accommodation at the Economy Hotels in Kodaikanal, Tamil Nadu.