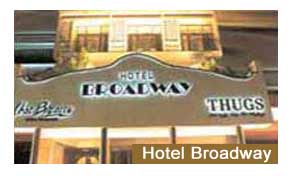 Basic Data
Country
India
State
Delhi
City
New Delhi
Location
4/15A, Asaf Ali Road,
(Near Delhi Gate),
New Delhi, India
Rooms
26
Introduction to Hotel Broadway in New Delhi
Hotel Broadway in New Delhi, India is 30 minutes from the airport and just 5 minutes from the railway station. Offering personalized services, Hotel Broadway, India has earned the reputation of being one of the finest Three Star Hotels in New Delhi, visited for its quality service. It is one of the most frequented Hotels in New Delhi, and has a history of its won. Hotel Broadway in New Delhi was established in 1956 as Delhi's earliest up to date structure by Mr. Tirath Ram Amla, who was a Kashmiri entrepreneur. The management mantra is quite different from the other hotels. It is to treat a customer as guest, Atithi Devo Bhava or treating the guests as 'own personal guest'.
Accommodation at Hotel Broadway in New Delhi
Staying in Hotel Broadway in New Delhi is a life time experience. Broadway Hotel, New Delhi offers some exceptional adaptation facilities. The rooms are well done up with both colonial and ethnic design; from every porthole you can view the skyline as well as the beautiful garden outside. The rooms at Hotel Broadway are spacious, centrally air-conditioned. Some of the indispensable modern amenities like TV, direct dial, STD/ISD, safe deposit, room service etc are there at the disposal of guests.
Cuisine at Hotel Broadway in New Delhi
Hotel Broadway consists of restaurant and bar. They are the following: The multi cuisine restaurant is called Chorr Bizarre. It serves all kinds of delectable Indian dishes with a peculiar environment created inside that resembles that of Thief Market of Chorr Bazaar.
The well stocked bar is called Thugs; the motto here is - The Pub not the People. It epitomizes the den of a filmy villain and is deliberately made dark to enhance its effects. Smoky interior adds another dimension to the filmy den. Adorned with such caricatures Bonnie & Clyde, Butch Cassidy & The Sundance Kid, Al Capone, Hook, and Lex Luther to Bollywood baddies like Gabbar, Mogambo and Ajit 'The Loin', the bar is a real tribute to Hollywood and Bollywood.
Some of the interesting drinks served here are Mona Darling (Bloody Mary), Mogambo Margherita (Frozen Fruit Margarita) and Loin's Punch (Planter's Punch) etc. they have been named after famous characters in Bollywood Film Industry.
Other Facilities at Hotel Broadway
There is a state of the art business facility at Hotel Broadway, making it a hot spot among business tourists as well. The spacious conference halls can accommodate 100 people. Some business amenities like TV, email, fax, projector, secretarial service are obtainable. Hotel Broadway caters recreational facilities as well. Some of them are watching kite flying, pigeon fights and observing the continuous the hustle-bustle of city life.
Some of the other facilities at Hotel Broadway are the following:
Currency exchange
Travel desk
Car parking
Doctor on call
Safe deposit locker
Indiahotelandresort.com offers you the opportunity of online booking to Hotel Broadway in New Delhi, India. For more information browse through Indiahotelandresort.com and for customized tour packages or for hotel booking, please fill up the form below.