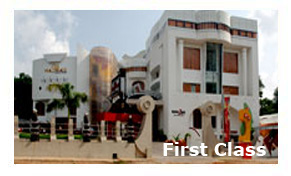 Introduction:
The old seaport town of Kollam or Quilon is located on the South western coast of the Arabian Sea and yet another gem in the exotic state crown of Kerala. Adjacent to the Asthamudi Lake, which directly leads to the backwaters, Kollam is truly a travelerís paradise. Silhouetted against the backdrop of the lake is the outline of the lighthouse that also features on the list of tourist attractions. The Chinese fishing nets and the cashew nut processing industry are other attractions of the city. However it goes without saying that tourist flock this place because of its scenic landscape, with the lure of the backwaters ever present. If you are particular about class and luxury do put up in one of the many first class hotels of Kollam that provides an array of services.
The first class hotels in Kollam come with state of the art conference rooms which facilitate business proceedings. Ornate suites of all shapes and sizes adorn these hotels. If you want to maintain your privacy from prying eyes, do rent a cottage which comes with a private kitchen and a built in closet. The cuisines in these hotels are a lavish fare. Equipped with hip restaurants and pubs, these hotels become the hotspot for the young and old crowd alike. The plush coffee shop, which remains open round the clock is a good place to unwind. The swimming pool, decorated with vitrified Italian tiles, tempts you to relax yourself by practicing a stroke or two.
For a trip to Kerala book a tour with indiahotelandresort.com. Log on to indiahotelandresort.com to know more first class hotels in Kollam.