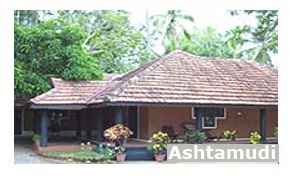 Introduction:
If one is to go by the National Geographic Traveler magazine then Kerala is one of the must see places of this earth. Considered as one of the most scenic place with its natural abundance and network of inland canals and estuaries, this god gifted place is a major tourist attraction from all over the world. Kollam which is considered to be the gateway to the backwaters is replete with picturesque surroundings and beaches all over its vast stretch. It is believed that there are a dozen of backwater openings in Kollam, Ashtamudi being the second largest. Going by its mythological meaning Ashtamudi means eight armed. Ashtamudi resort standing adjacent to Ashtamudi Lake is a perfect place for a traveler who wants to experience seclusion and beauty in all its glorious form. A ten minute speedboat ride from Quilon will transfer you to a different world of verdant green, azure backwaters, and rustic life with all its simplicity.
The twenty spacious chalets amongst palm fringed surroundings will imbibe you with a sense of well being by the mere sight of it. Comfortable, airy and spacious, the all white décor of the chalet gives it a pristine touch. On a honeymoon trip- touché! The Queen's suite in Ashtamudi resort is just the place for you with its romantic décor. Book the luxurious King's place if you really want to spent your holiday king size.
Cuisine in Ashtamudi resort is prepared specially and the local cuisine is really worth mentioning. Many a foreigners can be seen experimenting with the local dishes and the naked expressions of praise on their face makes one aware of the popularity of traditional Kerala dishes. You can also go for Indian, Chinese and continental as per your preferences.
Visit the thousand year old derelict temple that lies adjacent to the resort. The many ancestral homes speak of the days of yore. The coconut processing unit, oyster farms, coir village provides you with in depth knowledge about the village in general.
For a trip to Kerala book a tour with indiahotelandresort.com. Log on to indiahotelandresort.com to know more about Ashtamudi resort.