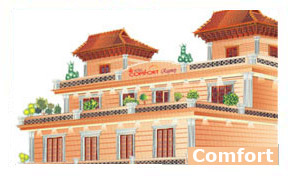 Introduction:
Exotic Kerala is sure to entice all its visitors with its classic charm. There are umpteen alluring destinations in what is lovingly referred to as God's own country, and Kollam is one of them. The incredible beauty of this land can be best witnessed and appreciated if you enjoy a comfortable stay in the hotels in Kollam. Hotel Comfort Regency can be your pick for it is one of the finest first class hotels in Kollam, offering facilities and services that are at par with the best in the world.
Accommodation at Comfort Regency Hotel in Kollam
Choose from amongst the well appointed rooms of Hotel Comfort Regency. They are meticulously done up and provided with all basic amenities to ensure optimum level of comfort for the visitors. The well adorned interiors are sure to impress any guest residing in them. If you are interested in greater opulence, the suites can be a better option. Round the clock room service by the ever courteous staff of the hotel makes your stay more pleasant.
Dining at Comfort Regency Hotel in Kollam
The multi cuisine restaurant of the hotel has on offer a wide variety of mouth watering dishes, ranging from Indian to Chinese to Continental. The ethnic décor of this family restaurant is very admirable too and what is sure to overwhelm you is the pleasing behavior of the waiters. In other words, an unforgettable dining experience awaits you at the "Diners Palace" in Hotel Comfort Regency in Quillon. The open air roof top restaurant provides the perfect setting for that memorable dinner with your partner, under the stars. The great food perfectly compliments the ambience.
The Executive Bar "Cheers" has an enviable collection of drinks,some of which are imported. Surely there will be some cocktail that will suit your taste and mood. If you are under a budget constraint, the Economy Bar "Tharavadu" is a more favorable option. Relax with any drink of your choice from this well stocked bar.
Other facilities at Comfort Regency Hotel in Kollam
Tourists, who have opted for this hotel as their temporary sojourn, are provided with money exchange facilities, travel assistance as well as laundry and medical service. All major credit cards are accepted here.
There are two banquet halls – Chancery 1 and Chancery 2 - in the hotel, which serve as perfect venues for social gatherings. The former is air conditioned. Other than these, there is a conference hall where one can hold business meetings and conferences. Any event held here is sure to turn out a grand success on account of the willing cooperation extended by the competent work force of the hotel.
The modern comforts and the soothing ambience, coupled with the cooperative amiable staff surely make your stay here worth remembering for many days to come.
Indiahotelandresort provides online information and online booking for the Hotel Comfort Regency in Kollam, Kerala.