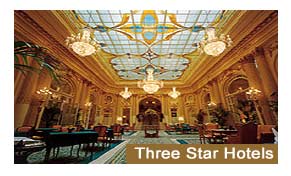 Mumbai is considered to be one of the busiest cities in India. It is the business and commercial hub of India. Thousands of leisure travelers and corporate clients fly in and out of Mumbai everyday. Many of the hotels have been constructed in and around Mumbai to accommodate the growing influx of tourists here. These hotels are an ideal place to put up if you are visiting Mumbai for business purposes or as tourists. For the discerning clients Three Star hotels in Mumbai offer you all the facilities that are needed for a hassle free stay.
Offering first class hospitality, the Three Star Hotels in Mumbai provides excellent accommodation amidst a luxurious setting. The Three Star Hotels in Mumbai are generally located in the commercial and shopping hub of the city making it easily accessible from all points. There are also some excellent business facilities in Three Star Hotels in Mumbai, because they are chiefly visited by commercial clients.
Indiahotelandresort.com offers online information on Three Star hotels in Mumbai, and other luxury hotels in India.