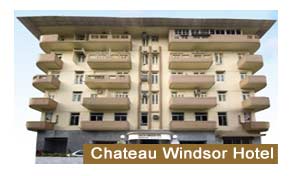 Fast Facts
State
Maharashtra
City
Mumbai
Location
Just 20 minutes from the
airport overlooking the Arabian
Sea. It is located just 22 kms
from Domestic Airport and
02 kms from V.T. Railway
Station
Rooms
40
Introduction to Chateau Windsor Hotel in Mumbai:
Chateau Windsor Hotel is a famous Budget Hotel in Mumbai. It is located in the main city and shares some of the common advantages with star hotels. Evoking a spirit of bonhomie, this hotel welcomes the discerning travelers with warm hospitality and state of the art facilities.. Mumbai is the celluloid hub of India. It shares with other part of the country some of the deep rooted cultural heritages. Chateau Windsor Hotel is one of the most visited Hotels in Mumbai both by business travelers and leisure tourists alike.
Accommodation at Chateau Windsor Hotel in Mumbai:
There are 40 extremely well decorated rooms at Chateau Windsor Hotel. They are well done up with modern amenities. The rooms are clean and spacious and give a decent impression. Being well maintained they are the unique in their own ways. There are 40 rooms which have been categorized into 10 single, 10 double rooms and 20 deluxe rooms, amenities like in -room television, cable connection, and telephone are offered here.
Dining at Chateau Windsor Hotel:
An experience of having food at Chateau Windsor Hotel is sure to remain hooked to your memory forever. A gourmet's heaven, the in-house restaurant is kept hygienically clean and tidy. The attached bar is also well stocked with flavors brought from different parts of the world; you would just love to be in that cheerful ambiance.
Other Facilities at Chateau Windsor Hotel:
Some of the available facilities at Chateau Windsor Hotel are the following:
A spacious conference room
Car parking area
Screen
Projectors
Screen
Fax
ISD
STD
Other facilities are the following:
Doctor on call
Safe deposit locker
Laundry
Car parking area
Indiahotelandresort.com offers online information on Chateau Windsor Hotel, Mumbai.