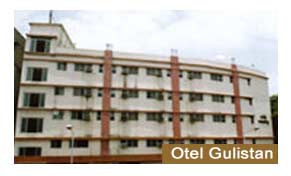 Basic Facts
Country
India
State
Maharashtra
City
Mumbai
Location
196/ Lamington Road,
Next to Minerva Cinema,
Mumbai - 400 007
Rooms
48

Hotel Gulistan is a famous Budget Hotel rated as a 2* Hotel in Mumbai.



Introduction to Hotel Gulistan in Mumbai:
Located at a distance of 27 kilometers from Shivaji Airport, ½ kilometer from Mumbai Central Railway Station and just 4 kilometers from Mumbai Central Bus Stand, Hotel Gulistan is one of the promising Budget Hotels in Mumbai, India.
Mumbai lies in the South Western part of India, to the western side of which lies the mighty Arabian Sea. Seven islands like Colaba, Mumbai, Mazagaon, Old Woman's island, Wadala, Mahim, Parel, and Matunga Sion jointly constitute the mainland called Mumbai, which was previously called Bombay or Good Bay.
It had been under the regime of Hindu kings but went into the hands of the Muslims and British consecutively. To the British it was given as a part of the dowry and after Independence, Mumbai became one of the distinct commercial trade zones in the country. Hotels in Mumbai serves the ever flowing wave of tourists infiltrating here either for commercial purposes or for leisure tripping.

Accommodation at Hotel Gulistan:
There are 48 well equipped rooms at Hotel Gulistan in Mumbai. They are extremely well done up with modern facilities and consist of 35 double rooms, 7 deluxe rooms and 6 suites. Since it is located conveniently in the hub of the city, Hotel Gulistan in Mumbai can easily be visited by people from all the major transit points.

Dining at Hotel Gulistan:
The aroma of the foods cooked at the in house restaurant of Hotel Gulistan in Mumbai is just yummy! Choose from any of the favorite dish of yours and while you have a taste of these delicious culinary delights don not forget to peep inside the well stocked bar. It is a connoisseur's paradise. You shall also be able to avail some exclusive Chinese menus over here.

Other Facilities at Hotel Gulistan:
You can expect to find some of the most important business equipments like ISD, STD, fax, courier and others at Hotel Gulistan. Apart from this you shall also be able to find doctor on call during an emergency, laundry service, safe deposit vault, car rental service, as well as extensive room service.

Indiahotelandresort.com offers online information on Hotel Gulistan, Mumbai.