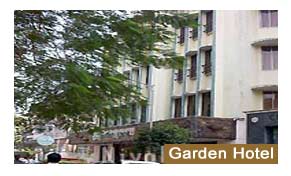 Fast Facts
City
Mumbai
State
Maharashtra
Location
G-32, Lokmanya Paan
Bazaar, Next to Godrej
Coliseum, Somaiya Hospital
Road, Off Eastern Express
Highway, Chunabhatti, Sion,
Mumbai - 400022.
Rooms
34
Introduction to Garden Hotel in Mumbai:
Located at a distance of just 35 kilometers from the Airport, 3 kilometers from Railway Station Garden Hotel is one of the most popular Budget Hotels in Mumbai. Serving in the field of hospitality for the past few years, it is one of the most promising Hotels in Mumbai as well.
Accommodation at Garden Hotel:
There are in total 34 extremely well furnished rooms that are categorized into double rooms and suites. 31 double rooms and 3 suites are there for your selection. Being air conditioned they are pleasant to stay. Amenities like attached bath, affixed balcony comes along with colored television, telephone and hand dryers.
Dining at Garden Hotel:
A dining experience at the in house restaurant of Garden Hotel is an invigorating experience. Offering a wide variety of dishes ranging from exotic Continental to mouth watering Indian menus, it is a gourmet's heaven. For a connoisseur also, there is sufficient scope to discover the conundrum of exotic liquors, a wide stock of which is present.
Other Facilities at Garden Hotel:
Some of the available facilities at Garden Hotel in Mumbai are the following:
Travel desk
Two phone lines with voicemail
Full size work desk Business Services
In-house laundry
Adjacent club
Doctor on call
Luxurious accommodations with in-room
business amenities
Business Center Fax machine
High speed internet - DSL
Copier
Close proximity to Bollywood Film Industry
India-hotels-resorts.com offers information and online booking facility for Garden Hotel, in Mumbai.