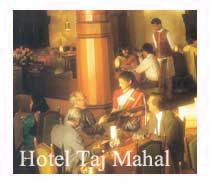 Leisure and Fitness:
There is a swimming pool, fitness center, beauty parlor and barbershop at the Hotel Taj Mahal, Mumbai caters to your beauty and fitness needs. Complimentary use of steam, sauna, Jacuzzi and gymnasium at the fitness center is offered to all the guests. The arrangements for sports like golf, badminton, squash, billiards, tennis and table tennis are made on request.
Around the City:
Mumbai was known as Bombay till 1996. The name has emerged from 'Bom Bahai', which means Good Bay in Portuguese. The city was formed by the reclamation of the reclamation of 7 islands on the central-western coast along the Arabian Sea. Mumbai, also known as the Manchester of India, is the commercial capital of India. There are several places to visit in Mumbai. Kala Ghoda Art District covers an area of 2 km sq. there is a huge statue of King Edward VIII mount over a black horse, which gives the place its name. There are restaurants, museums, educational institutions, cultural organizations, theaters and art galleries. A two-week long annual festival is held in the mount of February. The Victoria Terminal is the city's largest building with Italian Gothic design is a railway station. It is now known as the Chhatrapati Shivaji Railway Station. The Gateway of India is a ceremonial arch built to commemorate the visit of King George V and Queen Mary. The Flora Fountain is a sculptured fountain erected in the memory of the Governor Sir Henry Edward Frere for his contribution in building of the city.
The other places to visit in Mumbai are Marine Beach, Juhu Beach, Malabar Hills, Elephanta Island and Kalbadevi. Chowpatty beach is known for Marathi snacks like bhel-puri, chaat, kulfi and fresh coconut water.
Enjoy your stay at Hotel Taj Mahal, Mumbai with India hotel and resort.