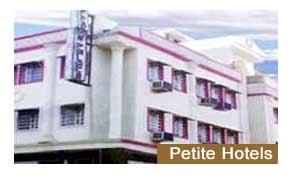 Basic Data
Country
India
State
Delhi
City
New Delhi
Location
4A Flag Staff Road,
New Delhi, India
(Airport - 25 km;
Railway station - 1
km & ISBT Bus Stand - 4 km)
Rooms
Air conditioned
Double Bedrooms
Introduction to Petite Hotels, New Delhi:
Petite Hotels, New Delhi enjoys a central position sitting in the heart of the city. It is a small yet very stunning accommodation in the city. Touted among one of the best budget hotels in New Delhi, Petite Hotels has become a favorite retreat for both the business and pleasure tourist. In fact its popularity is huge among French travelers. With this it can easily be maintained that it features facilities and services of international standards. On a visit to New Delhi you must also seek accommodation here because the facilities and services of this hotel are truly worth your money. Another advantage of securing accommodation at this hotel is that you can access the roadside cafes of the area that form a significant part of the tourist attraction of the city.
Accommodation in Petite Hotels, New Delhi:
Petite Hotels, New Delhi puts on offer a wide range of brilliantly appointed and furnished guestrooms with double bed facility. All the guestrooms are very simple and boast of a tranquil ambience inside. In fact atmosphere inside every room is so peaceful that guests get completely engrossed in relishing their simplicity and enjoy a cozy stay in Delhi. Further, the quality of these guestrooms enhances a bit more with the number of modern comforts they offer. Some of the very requisite modern comforts as present in every room include hot & cold water, telephone, attached bath, television and numerous others. Hence on booking rooms here you will also enjoy the simplicity and comforts of the room. v
Dining in Petite Hotels, New Delhi:
At Petite Hotels New Delhi you can pamper your taste buds with delicious Indian, Chinese and Continental dishes. A wide variety of these fares are served in the on site multi cuisine restaurant of this hotel. You will become a real fan of this hotel after savoring tasty delights and enjoying customized services here.
Other Facilities in Petite Hotels, New Delhi:
Petite Hotels, New Delhi is a treasure trove of exclusive facilities and services. On securing accommodations here, you will also witness the same. You can avail any of the various facilities like Money exchange, Safe deposit box, Room service and Laundry services. Not only this, with the helpful services of the travel desk of this hotel you can also look forward to enjoy happy vacations in Delhi.
Indiahotelandresort.com offers online details on Petite Hotels, New Delhi. For more inputs or to make a booking, please fill up the form given below.