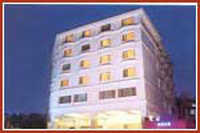 Basic Data
Country
India
State
Kerala
City
Kochi
District
Ernakulam
Location
M.G. Road, Kochi 682035,29km from
Kochi International Airport, 2km from
Ernakulam Railway Station
Rooms
52
Groups
Abad hotels
Introduction to the Hotel Abad Atrium in Kochi:
Hosting the grave of famous merchant navigator Vasco da Gama, accredited with the honor of discovering Indies, Kochi is an idyllic paradise. For a discerning traveler Kochiís idyllic beauty is enticing and rejuvenating. To make your holidays more exquisite, come to Hotel Abad Atrium.
The palm lined beach resort, with vast stretch of transparent water in its facade, is a stimulating experience. So, as you stand in the balcony the natural elegance becomes conspicuous. Actually, Kochi opened the door to waves of colonial expeditions in India. Kochi Port rose to prominence due to large scale spice trade with foreign countries.
Hotel Abad Atrium provides warmth and hospitality amidst a comfortable ambiance. Located strategically in the hub of Kochi, it is conveniently accessible from Railway Station (2 kilometers), Bus Stand (1/2 Kilometer) and Airport (29 Kilometers). Major Tourist destinations like Thekkaddy, Munnar, Palakkad, Coimbatore and Kumarakom are located nearby.
Accommodation in Hotel Abad Atrium:
The Hotel Abad Atrium is a Deluxe Hotel with 52 splendidly furnished rooms. They are categorized into Deluxe and Suites. The central porch is surrounded by fine Guest suites meant for business meetings. The capsule lift completes the overall decoration of this exotic Deluxe Hotel.
Cuisine at Hotel Abad Atrium:
Lip smacking delicacies comes at affordable prices in the attached restaurant of Hotel Abad Atrium. This multi-cuisine restaurant at Hotel Abad Atrium is well lit and comfortable, serving Indian, Continental and Chinese delicacies. The bar is stocked with piles of exotic liquors.
Other Facilities at Hotel Abad Atrium:
Your sojourn at Kochi would be memorable at Hotel Abad Atrium with morning newspapers, in house laundry, barber shop and recreational facilities. The travel desk would design a balanced itinerary tour in Kerala for you. The special car rental facility at Hotel Abad Atrium is conducive to such tour programs, thereby encouraging tourism and knowledge. Currency exchange and car parking concludes the long list of amenities at Hotel Abad Atrium.
Indiahotelandresort offers online information on the Hotel Abad Atrium in Kochi.