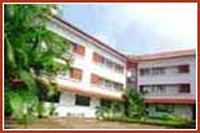 Basic Data
Country
India
State
Kerala
City
Kochi
District
Ernakulam
Location
Near South Railway Station, Kochi
682016, 30 km from Kochi Airport
Rooms
39
Introduction to The Metropolitan in Kochi:
The Metropolitan Hotel located in the hub of Kochi, Queen of Arabian Sea, is a wonder for the tourists. Comfortable accommodation at reasonable price, warmth and hospitability and a homely attractiveness epitomizes The Metropolitan. Incomparable elegance and comely atmosphere makes The Metropolitan more attractive for a discerning traveler.
Accommodation in The Metropolitan in Kochi:
The soothing interiors consisting of a wide collection of Oriental and Occidental furniture makes the interior all the more charming. The rooms are scrupulously clean and the pristine view from the hotel porthole makes your day. The Metropolitan is a welcome relief from the bustle of city life to a discerning traveler. On business leisure too, The Metropolitan provides a proper ambience for a memorable stay.
Extended porch gleaming with plush granite flooring, well lighted foyer and warm hospitality distinguishes The Metropolitan from the rest. Typical Keralean delicacies that come at reasonable prices, rich with coconut oil and spices of Kerala solely satisfies a gourmet, an ordinary traveler can also take the delight of sea foods and exclusive Keralean culinary items.
Cuisine at The Metropolitan in Kochi:
Pallava, the restaurant of Metropolitan, has world class cuisine collection ranging from Indian, Continental and Chinese; this restaurant is the home-kitchen of The Metropolitan. Lip smacking desserts that come at reasonable price are also superb and unique.
Palms, the unique coffee shop is more than coffee and snacks, offering a full course of Continental, American and Indian meals at a pocket friendly budget. You can indulge in sandwiches, ice creams and juices all along the day from Palms, a strong attraction for epicurean and common alike.
Indiahotelandresort offers online information on The Metropolitan in Kochi.