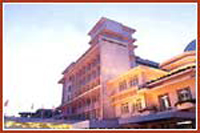 Basic Data
Country
India
State
Kerala
City
Kochi
District
Ernakulam
Location
M.G. Road, Ernakulam, Kochi, 30 km
from Kochi International Airport
Rooms
60
Introduction to The International Hotel:
Conveniently located in MG Road, Ernakulum, The International Hotel, is advantageous in two fold ways, easy access from Airport and Rail Station and a pristine backdrop away from the bustle of city life.
The mellowed charm of the old world and pervading nostalgia evoked by the interior décor epitomizes The International Hotel. The cliché underlying tourist attraction at The International Hotel is its strategic location and synthetic feel of many a star hotels.
Kochi, Queen of the Arabian Sea, leaves a lasting charm in the hearts and minds of tourists, and The International Hotel offers an opportunity to scroll down the pages of history written in every nook and corner of Kochi city.
A centre for trade and commerce from time immemorial, Kochi rose to limelight but a sudden flooding by River Periyar diminished its glory to some extent. After recovering its brilliance gone astray, Kochi became the first Princely State in India to join the Indian Territory.
About The International Hotel:
The International Hotel takes pride in its convenient location and peaceful milieu, encouraging tourist infiltration from across the country. Scrupulously clean and tidy rooms with plush interior décor, unprecedented combination of Indian and Occidental cultures distinguishes The International Hotel from the rest.
Chinese Fishing nets for the first time found an application in The International Hotel outside China offering tourists an exquisite scenario of fishing nets spreading for miles across the transparent backwaters in Kochi harbor, for fishes to swim inside. Clean and tidy rooms with fresh bed sheets in well lighted room makes the interior homely and graceful.
Coq - D'or Restaurant of The International Hotel offers multi-cuisine facility that tingle your taste buds and makes you feel the delight of Kerala through culinary delights. A well stocked bar, named Belle Bar, with adequate storage of excellent wines, cocktails, with other delicious flavors is available here.
Indiahotelandresort offers online information on The International Hotel in Kochi.