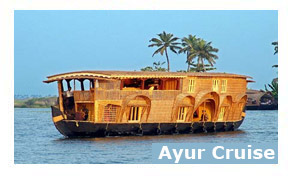 Introduction:
The etymological meaning of Ayurveda relates to health and healing. It deals with the issues of healthy living, along with "therapeutic measures that relate to physical, mental, social and spiritual healing". Ever wondered how it would feel to go on a cruise specially designed and conceptualized with an Ayurvedic slant to the whole thing? If you want to unwind in the midst of nature and at the same time want to enjoy the benefits of the different healing techniques of ayurveda do book your vacation with Ayur Cruise in Alleppey. The first of its kind (ayurveda cruise), and the second largest houseboat in Kerala, Ayur Cruise goes a long way in promoting the Indian Ayurvedic culture in a totally indigenous way.
The luxurious stay at Ayur Cruise rejuvenates you from your stupor. Professional Ayurvedic doctors assist you with therapeutic treatments and you can pamper yourself with different body messages and baths, each concentrating on the different nerve endings of the body.
A typical dining fare at Ayur Cruise consists of fresh vegetables cooked in coconut chutney, a fish dish done in a typically South Indian fashion, and chicken gravy in coconut milk. The food is simple but filling and tasty.
The décor is done tastefully, keeping in mind international clienteles. A red carpeted hall and wooden furnishings give it the look of an old English barge. Bamboo and straw is used in its make up. The dim light creates an atmosphere of mysticism and beauty. Ayur Cruise will take you around the meandering canal system of the city and the different backwaters adjacent to the quaint town of Alleppey.
For a trip to Kerala book a tour with indiahotelandresort.com. Log on to indiahotelandresort.com to know more about Ayur Cruise.