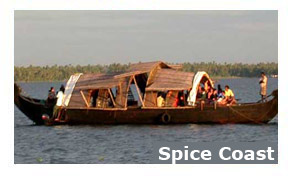 Introduction:
Have you ever wondered what it is like to be amidst the deep, deep ancient sea with not a single soul in sight? Perchance it strikes a cord with Coleridge's Rime of the Ancient Mariner. If you have an adventurous bent of mind and want to experience raw nature in the midst of all its finer elements do drop in Alleppey or better still book a cruise vacation with Spice Coast Cruises. You must have heard and read a lot of travelogues before planning your holidays. However, if you haven't experienced it in person you have no inkling about what you are missing. A journey through the many crisscrossing inland canal system of Alleppey will mark your soul forever- an unforgettable experience etched in memory!
Spice Coast Cruises is a blend of all that is luxury, basic and natural. The houseboat strikes a perfect equipoise between luxury and natural freshness of all things aboard the vessel. Spice Coast Cruises generally plies between the backwaters of Alleppey and Kumarakom. A night stay in the shelter of the houseboat in the stagnant waters of the lake Vembanad is especially memorable. You are awestruck by the haunting beauty of the lonely lake and you are also terrified by the pin drop silence. Morning comes and it is a different feeling altogether. The ride takes you through the many nearby villages of Alleppey. While the houseboat moves away slowly your eyes catches a lonely crane or a truant village boy waving at you and the bent of the road that is slightly visible from the houseboat speaks of another journey.
A typical stay in the houseboat consists of two days. The rooms are comfortable yet natural in its make. You are also provided with an experienced guide or navigator and a cook. Spice Coast Cruises offers you excellent local cuisine with a tinge and aroma of coconut in almost all the dishes. The fresh lobsters are the best that money can buy.
Also the coir matting and the bamboo trimmings are quite distinctively placed.
For a trip to Kerala book a tour with indiahotelandresort.com. Log on to indiahotelandresort.com to know more about the Spice Coast Cruises.