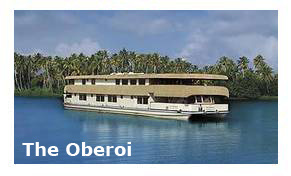 Introduction:
Alepee known for its exquisite houseboats and the craftsmanship of the village people attracts tourists from all walks of life. If you glance through the Indian travelogue you are sure to find the name of Alepee rated high in the list. Especially tourists are enthralled by the whole experience of staying in a houseboat and traveling through the inland canals of the city. This canal system of the city is intertwined with the main city and the adjoining villages in such a way that a whole tour of four days can be conducted in the houseboats. It gives you deep insight into the life, craft, and vegetation of this region. If you are planning to spend your vacation amidst the sea in the shelter of these houseboats do try out the Oberoi M.V Vrinda which stands out even in a class of its own.
The Oberoi M.V Vrinda is a 106ft long exquisite piece of woodwork which takes you through the inner recesses of the city and the mouth of the Pampa river to view the Arcadian setting of the surrounding. It is equipped with 8 cabins which are well organized and maintained. The central air conditioning system is linked with all the rooms. The décor is of heavy woodwork and the other furnishings in the room also speak of class and élan. Each cabin also consists of an electronic safe deposit box and digital video player.
A well stocked restaurant and a good cellar awaits you when you are famished after the days travel. The chef can do wonders with fresh stock of lobsters and crabs that are then barbequed and offered. There's an imbibed freshness in all things in and around Alepee which touches us and leave us wondering about the shallowness of the polluted city life that we are living.
For a trip to Kerala book a tour with indiahotelandresort.com. Log on to indiahotelandresort.com to know more about the Oberoi M.V Vrinda houseboat.