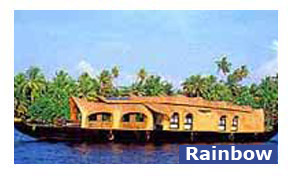 Introduction:
Living in houseboats though fascinating, is not a very novel concept. The very idea of the Shikaras in Kashmir and the Kettuvalom houseboats in Kerala is indigenous as a travel concept which originated in India long before the cruise liners. In Kerala these luxuriously furnished houseboats ply amidst the many canals and inland lagoons. Backwater cruise as it is commonly known by the local travel agent, is a study in all things natural. Escape the daily din and bustle of the city life and book your holiday with the luxurious Rainbow Cruises.
Considering the fact that cruise liners are a costly fare, the tariff of Rainbow Cruises will seem relatively economical. At a modest price, a couple can have a pleasant trip to the backwaters of Alleppey en route to Kumarkom.
The huge hull of the houseboat is made of Anjali wood. Bamboo is used along with other varieties of heavy wood, in the décor of the inner structure of the houseboats. Native oarsmen and one navigator will see you through the whole journey. The fresh vegetables and spices used in the daily cuisine have a charm of its own. Vegetables like drumsticks are considered to be a delicacy in Kerala and the local cook proves himself when he cooks up a simple but tasty dish from something very trivial.
The rooms in Rainbow Cruises are comfortable and you are left wondering whether you are plying at all, for there is hardly any rolling or pitching of the houseboat. The trimmings in the rooms are done in white. The big living room overlooks the scenic villages and canals of Alleppey. However don't forget to carry your mosquito repellent cream onboard, as there are ample opportunities that you come home with a happy heart but a swollen face.
For a trip to Kerala book a tour with indiahotelandresort.com. Log on to indiahotelandresort.com to know more about Rainbow Cruises.